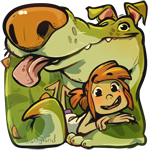 Hello
Hey! You can call me Colonel, Serene, Maxi...whatever! Here's a new, simple page where you can easily view my commission pricing, check the FAQ, as well as learn more about my Patreon tiers!
---
SHANTYLAND ON PATREON
Worldbuilding a Swamp Planet!
Shantyland started in 2006 as a low-stress side project to practice art with. Five years later I launched Shantyland on patreon to continue to claim this space for personal art/development. Since then, we have developed an amazing community that helps drive Shantyland alongside me!The Shantyland Patreon focuses on the art and world-building of the planet Shantyland! Patrons can participate if they choose, by developing "Shanty Ranger" avatars, or by purchasing or creating their own characters/adopts, OR just kick back and enjoy the ride as it is.I offer seven member tiers with different reward options based on how much you want to get out of my Patreon experience. I also offer:
Exclusive Access to Commission Slots at Discounted Rates

Monthly Livestreams

Access to the Shantyland Discord Server

Four Different Art Tiers for monthly art rewards

Priority Viewing on New Characters for Sale/Auction
Join my Patreon for as low as $2.50/mo and gain access to Shanty Content and an incredible discord community!

+ 500 MORE EXCLUSIVE PATREON POSTS TO UNLOCK!
Character References
I can work off of photo images of real animals if you would like to get a pet reference. I can also draw any species!
Chibi Reference
$38
+ chibi headshot or mini side view for $10
+ Accessories $1-5 each
A cute chunky style ref! Characters will be simplified/stylized as needed.
• 1 full-body pose
+ One simple accessory included
+ Color palette, name, & character info
---
Build-A-Ref
$60 starting price
Build the reference sheet you want! The starting price includes all the elements from the simple reference option, but the price increase covers the additional time it takes to create the layout elements for a larger ref
Use the additional cost examples below to give yourself a price quote. I will confirm the pricing with you before taking your commission and we will work together to build your perfect reference!
(art examples to come)
FERAL ADD-ON PRICES:
$1-$5 per Accessory (based on difficulty)

$10 for Chibi Headshot or Feral Mini View

$18 for Regular Headshot

$30 for Additional Full-body Feral View

$50+ for Environment Image (like Salty's reference)

Want something but don't see it listed? Message me and we'll work out a price!
ANTHRO ADD-ON PRICES:
$1-$5 per Accessory (based on difficulty)

$20 for Anthro Headshot

$50+ for Environment Image (like Abbot's reference)

$50 for Additional Full-Body Anthro View

$25 for Additional Chibi Anthro View

+$15-20 per outfit on Chibi view

Want something but don't see it listed? Message me and we'll work out a price!
*Anthro and complex reference pricing based on numbers from this page will be an estimate only. Final pricing will vary based on the complexity of the character and the detail of the reference. Final pricing will come from Colonel.

Large Art
These larger illustration pieces will be given to you in sizing over 1000x1000. I can adjust the final size for whatever purpose you would like for the final picture. More large art commission types will be available here soon!
Fullbody Largeart
Feral Flatcolor - $50
With Shading- $60Anthro Flatcolor- $75
Color/Shade- $85
Additional Character- +$75%
Sketchpages
Pricing based on budget/desired poses.
Doodle pages: $45-80
Colored Sketchpage: $90+
Full Color: $150+
Multiple Characters: $200+Doodle pages have little to no color added, and if anything, it may just be a solid color.
Colored sketchpage has quick/implied color (depending on complexity)
Full color has each pose colored entirely, and some will be shaded.
Multiple character cost starts at $200 but may vary based on amount of poses or size of characters involved (discount for teeny characters/extras)
Pricing can vary/ can work within a budget!
You receive the large art and websize file.
---
Pay-What-You-Want
(PWYW)
$10-$150
The finished picture depends on your budget! These are generally sketchy in nature, with higher price points covering additional chars/rough background elements or possibly a sketch page format!
Not an ideal option for super nit-picky ideas/concepts as this commission style is the artist's interpretation. Please message for quotes on illustration pieces in that case.
If you have an idea for something and you're not sure where it fits - feel free to reach out and I can give you an estimate!
---
Additional examples of my art in no particular order
Patreon FAQ
When will I get charged each month for Patreon?
When you join my Patreon, you will be immediately charged and have access to all previous content. Moving forward, you'll be charged by Patreon around the first day of every month.
How do I submit for my monthly art rewards?
Each month I send out a message through Patreon to all the art tiers as a call for your reward submission info. You can reply to that message on patreon, or feel free to get your info to me via DM on Discord. Just include your reference and any additional info about the character/idea and your art will be delivered during that monthPlease let me know if you would prefer to STACK your reward that month instead. If I don't hear from you, I will assume/record that you are stacking. (I keep track of all rewards and stacks on a private trello, so if you ever lose track of your stacks, just let me know and I can check it for you.)
What does "stacking" my reward tier mean?
Certain tiers get art rewards delivered monthly. If you choose to skip a month and not collect the reward, you can stack them up to get a more finished piece (ie: stack two months and get a colored sketch instead of a plain one).
I generally prefer to know in advance if you want to stack for more detailed art, however, if you really love a sketch one month and want to add color the next, that's ok too!
The tier I want is sold out! Can I just pay for a different Patreon tier, increase the price, and get the higher benefits?
Noooo! Patreon allows you to adjust how much you want to pay for any tier, but I have limited slots for art tiers due to limited time to get everything done. Between patreon content, rewards, coms, and regular freelance work, I can get stretched thin pretty easily!If you want sketches or fun stuff each month, check out PWYW options or follow along in the Discord server for random YCHs or other fun stuff each month!
How do I submit for a commission?
At the start of each month, there will be a post on Patreon announcing that I am open for commissions.Due to a high volume of patrons, these commissions are taken via application request. You can browse the prices on this website and then submit a comission form via a Google Doc link that is included in each commission post. Myself and my team go through each request and decide on which ones will be doable that month (depending on my freelance studio schedule, art rewards, and other time restraints). Toucat (or Ale) works with me and will be reaching out to everyone who submitted to let you know if the commission has been accepted or not. She will contact you for payment and/or additional details, usually within a week of the application open date.After your payment is successful, you will get added to my commission Trello (linked below) where you can follow along on the status of your piece. Questions or updates I have will be messaged privately, and final artwork will also be messaged to you privately. *
Can I use my monthly rewards towards something else?
Yes! I'm not opposed to occasionally letting you use your reward in other ways, or to get an art option that isn't technically offered, but this is generally at my convenience and can't be a regular occurance unless we have worked something out privately beforehandArt tier "credits" can not be stacked to use towards regular commission options, as this can disrupt my scheduling. However, there are some options to allow you to stack up rewards beyond the normal art tiers for things like credit towards my annual Valentines sale or potentially character adopts (depends on the sale).Certain tiers may also be stacked towards getting custom adopts (Cloverpups, Royal sheps, any Shanty species) if that is something you find yourself more interested in.If you ever have questions or ideas on how you'd like to use your rewards, feel free to reach out and ask myself or Toucat!
Can I get a commission and an art reward in the same month?
Anyone in the Tadpole tier and above can apply for as many commissions as they want each month. I do try to play fair with who gets slots so that no one is "hogging" the slots each month, and I try to ensure that if you missed out one month, you'll be able to get something the next.Art tier rewards are specifically made so that you are guaranteed some form of artwork each (or every other) month, so taking your order may be less of a priority if we're slammed with requests that month. Especially if you're cashing in for a high stack reward, I typically won't have time for a second commission that month.I do try to take at least a partial commission from everyone who applies, but I have to be honest about how much I can get done within each month so this changes along with my schedule.
Am I allowed in your Shantyland Discord?
Yes! The Shanty discord is technically open to anyone who is interested in Shantyland or any of the closed species I feature there. You must follow discord guidelines about age and whatnot, and I appreciate a heads up if you want to invite friends beforehand.I have hidden channels set up in the server for people who are actively Patrons, so unless you're a Patron there will be stuff you miss. Otherwise, you're welcome to hang out and be a part of our community!
My Patreon Tiers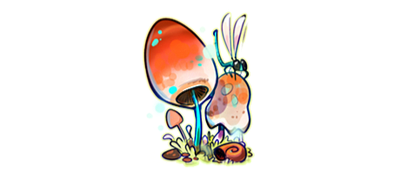 Fungi $1 (Tip jar)
Support tier! Every dollar helps! Your alien currency translates into much more when exchanged for the going rate on Shantyland! You'll see a good chunk of posts, including the monthly sketchdump at the end of each month!
Access to Patreon Feed and Discord

Monthly Sketch Dump (posted at the end of every month)
---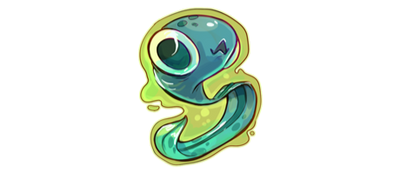 Tadpole $2.50
You might hear the higher-ups calling their ranger recruits tadpoles! You guys are the real workforce on Shantyland! Tadpoles gain access to the commission application/slots each month, fun!! You'll see most of the content posted on Shantyland so you can grow your little tadpole legs and sprout into a fully fledged ranger one day!
Same Rewards as Fungi

Access to Commission Slots

Access to most Shanty content and the discord channel.
---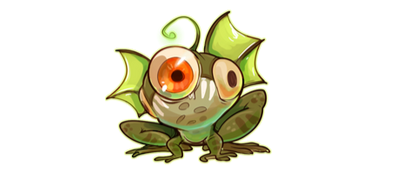 Froggo $5
Legs for days! Froggos get all the posts from previous tiers, but those froggy legs carry them into new territory with time-lapse videos, walkthroughs (Q&A included with either of those) and all of the behind the scenes sketches and concepts! Froggos (starting soon) also get 5% off commissions as well!
Same Rewards as Fungi and Tadpoles

Ability to see Concept, WIP, and Tutorial Artwork

Access to Monthly Livestreams

5% off Commissions!!
---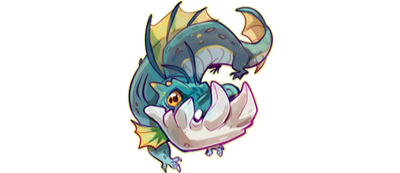 Jawbone $20
A beast to be reckoned with! The jawbones are the first tier to lead us into ART REWARDS! This tier gives you all of the previous posts and benefits, but you get 5% off future commissions, AND guaranteed monthly art! So even if you don't catch a commission slot, you've got a little something coming your way!
Same benefits as Fungi, Tadpoles, and Froggos

MONTHLY ART REWARD: Black and White Bust Sketch - Single Character

The ability to stack your rewards and get a Colored Bust Sketch or a b&w fullbody sketch.

Continue stacking for rewards similar to higher tiers!
Jawbone Art Reward example on left. --- Stacked (colored) version on right.
---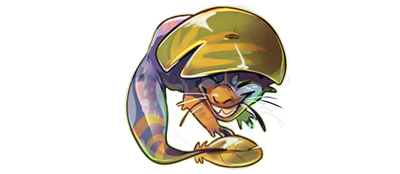 Cloverdile $30
They may be smaller than the Jawbone, but they make up for it with agility and ferociousness! The Cloverdile tier lets you get a 5% commission discount and larger art piece straight to your little shanty hut each month. These CAN be stacked to add color or additional characters. So two months stacked can get you a single character colored piece or a two character piece.
Same Rewards as Fungi, Tadpoles, and Froggos

MONTHLY ART REWARD: Black and White Full-Body Sketch - Single Character

Two stacks: Colored fullbody sketch, or black and white two character sketch

Three stacks: Full color character art, or colored two character sketch.
---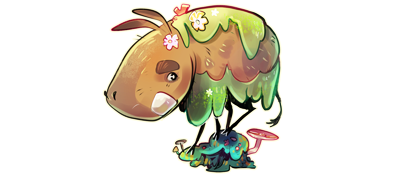 Boguinea $55
A resiliant creature among the Shantyland fauna that does very well to stay alive and work together in herds! The Boguinea tier has an art reward where you get a detailed chibi illustration once a month along with 5% off commissions.
Same benefits as Fungi, Tadpoles, and Froggos

MONTHLY ART REWARD: Chibi Illustration - Single Character

The ability to stack your rewards and get a two character Chibi Illustration or to have detailed platform background added onto your previous piece.
---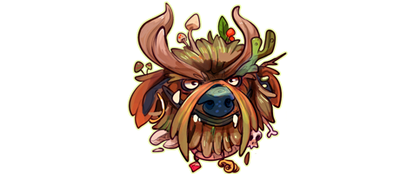 Swampsquatch
The rarest beast this side of Shantyland! These slots don't come cheap, and they don't come often, but the mighty Swampsquach gets you 5% off commissions and a regular experimental large art or sketch page! Or you can buckle down and stack up for a custom cloverpup, oh my!
Same Rewards as Fungi, Tadpoles, and Froggos

MONTHLY ART REWARD: Experimental Large Art - Single Character

The ability to stack your rewards and get a custom Cloverpup. (3 stacks)
---

Don't know what it means to stack your rewards? Click here to read the FAQ!
Terms of Service

Intro & Communication
If you are paying for my services, it is assumed that you have read and agree to the entirety of my terms of service, as seen on this page.I have the ability and skillset to draw nearly anything a commissioner can come up with. However, I always prefer to discuss and quote out the content if the subject matter is new to me.Have your information ready to go for your commission. The more information you have for me in the beginning, the less edits and changes we'll have to go through later.My working hours are weekdays between 10am-5pm EST. I do not work on weekends and am not available to reply about commission questions/requests during that time or after hours.All communication needs to be prompt. You understand that good timely communication is important, and without timely responses, my process will be slowed down. I work on multiple commissions at a time, and I will generally go back and forth between pieces to make the best use of my time, so if I do not receive timely responses, I will often switch over and work on another piece. Communication should also be friendly, professional and respectful at all times.I reserve the right to refuse service to anyone, and to refuse to accept a commission for any reason. These Terms of Service are subject to change at any time.You are commissioning me for MY style. Please, do not ask me to draw like anyone else. Please trust my judgement, I have the right to decline any edits that I feel is not following the parameters of my illustration style.
Payments & Refunds
USD commissions are accepted via PayPal only. You do not need a paypal account to purchase, however by commissioning me, you agree to be of legal age (18 Years or Older) to utilize PayPal services.
I send invoices for commissions over PayPal and the payment must be paid in full before your comm is started. If you need to discuss/negotiate your invoice, do so before sending payment to allow for edits.Payment plans can be negotiated for payments over $100 USD.If you fail to pay for your commission or request a termination, it will result in the contract being voided. I retain all rights to the supplied approved artwork created prior to billing and I am permitted to do with as I please.
If the commission has not been started and termination is requested by you, you are subject to a full refund.

If work has begun, you are subject to a partial (50%) refund up to the lining and coloring stage.

Beyond this stage (lining and coloring) refunds are negotiable on a circumstantial basis but a full refund is no longer permitted.

If the refund is because of my own circumstances, you are subject to a full refund.
Once artwork is fully paid, completed, and sent, refunds are non negotiable. All refunds are a case-by-case basis prior to artwork being completed.
Edits & Deadlines
After receiving the payment in full I will aim to have your commission done within 60 days. I work in monthly Patreon shifts, but there are a few factors that can extend the deadline of your commission or result in edit fees.If you have a deadline for your commission be sure to mention it before your payment has been sent. I cannot guarantee a deadline if we did not discuss and agree to it before I get started.You will see me posting other projects, quick jobs, or personal projects during your commission timeline. This does not mean I am not working on your commission. By commissioning me you are agreeing to the 60 day turn around time for your finished piece.Revisions are done in the thumbnail, sketch, and potentially ink (if the change is simple) stages of a full commission. The sketch stage is the last stage where you may request the entire image be redrawn.Revisions in the Inked and Colored stages will be limited to overlooked character flaws. There may be minor changes to the finished product of any commission.Edits are free of charge when they are of my own omission. Any edits past the ink stage will be considered a complete image re-draw and may be subject to additional charges. Once the image has reached the coloring phase, edits are a case-by-case basis and may be subjected to fees at my discretion.
Rights, Legalities, and Everything Else
I retain the full copyright to the image unless otherwise specified in a signed contract. I retain the right to post images digitally and hold all reproduction rights. I may use images in my own publications offline; for example: sell prints of any images I create.You have the right to distribute the artwork I produce for you in digital form for non-profit personal use only unless directed otherwise in our correspondence.You are not allowed to use it for commercial purposes (ex: logos, layouts, print sales, stickers, generally anything you can sell). If you wish to use my artwork for commercial reasons, you will need to purchase the rights from me for an additional fee. If you wish to purchase these rights feel free to contact me and we can work out a price.Credit may not be removed off any commissioned art. Do NOT erase my signature or any character rules off of references without explicit permission from the original rule bearer.If the commissioner intends to use a piece of art for any kind of commercial use, this must be discussed with me in advance, and it will have an effect on the final price due to rights-managed product licenses.Commissioned work may only be used by the commissioner and is not allowed to be used by others on forums/blogs/role plays, etc without permission from the commissioner/character owner.Any art that has been produced by me is not permitted to be altered or edited without permission by anyone else; This means, if you get a sketch YOU MAY NOT color it/finish it yourself or have another artist finish it for you without my consent. If you purchase a sketch, and later decide you want it colored or finalized, please contact me.I no longer take litter puppy commissions, however my rules for puppies I have created are still valid. If a litter character sells for more than double what you paid for it, then 50% of the profits will be split with me. You ONLY have to split profits with me if the characters goes for more than double what I charged you to make the litter character. This applies to characters that weren't originally sold off in an auction with the rest of their litter mates, but percentage of profits may be negotiable.
---
Terms of Service last updated on October 30, 2018